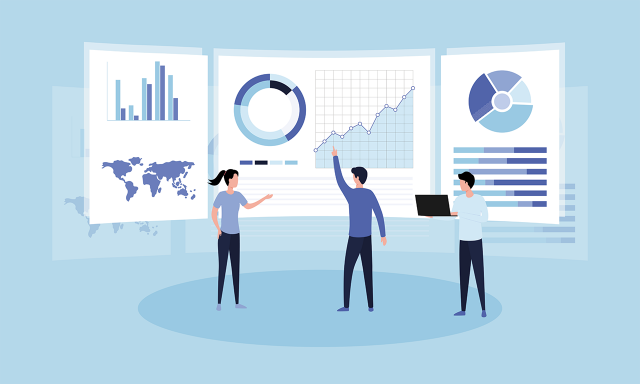 The Language of Consulting
How can you tell the difference between an introverted and extroverted actuary? An extroverted actuary looks at your shoes when talking to you.
The common joke demonstrates a widely held perception that, in addition to loving math, a prerequisite to being an actuary is an introverted disposition.
This stereotype misses the value that actuaries, consulting or otherwise, can bring to users of their work.
As far as I can remember, I have always been drawn to numbers. Throughout my early education, I gravitated to all the various "toys" designed to instill a tactile knowledge of mathematical tenets: number chains, peg boards and puzzles (some even three-dimensional!), to name a few. This attraction has always been founded on one notion, or cliché: "numbers don't lie." When applied properly, mathematics has the ability to tell a story in an elegant and concise style that rivals some of the most beautiful languages around the world, and, relative to spoken language, the risk that the results of a mathematical problem are misinterpreted is lower.
As I grew and eventually moved on to college, I participated in a work-study program tutoring players on the university football team. During this time, I learned that, not only were the football players incredibly intelligent (I still vividly remember one player in particular giving me a detailed history lesson on the drafting of the Magna Carta), but I also found passion in explaining mathematical concepts to others. I was driven by the challenge to take complex mathematical models and break them down so that they were explained in terms that were easier to digest. I was rewarded when they could explain those topics to others – validating that they understood the material at a level beyond the superficial.
Naturally, I considered teaching a noble pursuit that would align my love of mathematics with my desire to share it with others. So I graduated from college, packed my bags and moved to Nashville, Tennessee, where I accepted a position as a middle school math teacher. I learned some valuable life lessons during this time, most notably that teaching is without a doubt one of the most challenging professions out there. I also realized that the challenges of managing a classroom were outside my skillset – forcing me to evaluate how I wanted to share my gifts with the world.
It was during this time that an opportunity in the actuarial consulting space opened up. Initially, I found myself overwhelmed by actuarial models and technical jargon. Thankfully I had mentors who guided me through my nascent years as my role suddenly flipped from educator to student. I try to keep that feeling with me, knowing that my clients are not exposed to actuarial science on a regular basis. Throughout my 15+ years in the profession, I have found that an engagement does not typically end once the final answer is derived and the report is provided to the client. The true value of an engagement is to translate the technical language embedded in the numbers into a form that others can understand; this is arguably where the real work of a consulting actuary begins. My most fulfilling engagements are those where my clients not only understand the results of the actuarial report, but can explain the results to others on their staff, their board of directors, their direct reports and others. 
Our ability to learn, to educate and to be educated is something we should never take for granted. This gives each of us an opportunity to grow and share our expertise with the world – a reward in and of itself, even if we are looking at one another's shoes.
Danny Linton is a senior consulting actuary with Pinnacle Actuarial Resources working from Nashville, Tennessee. He holds a Master of Education degree and a Bachelor of Science in mathematics from the University of Notre Dame. Danny has been in the property/casualty industry since 2005, focused on loss reserving, loss forecasting, captive feasibility studies, capital modeling and cost allocation mechanisms. He is a Fellow of the Casualty Actuarial Society and a Member of the American Academy of Actuaries.