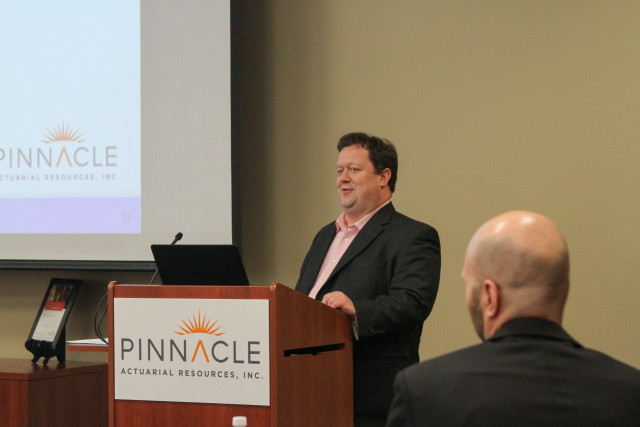 Pinnacle U: An Interactive Business Experience
Academics may struggle to provide their students with a real-world business experience to supplement classroom lectures and exercises. Aspiring actuarial science students are immersed in curricula saturated with applied mathematics, statistics and financial theory. This will help them prepare for preliminary actuarial exams but does not educate them on the business world of the insurance industry.
Our annual "Pinnacle U" pairs small groups of college students with one or more of our actuarial analysts in order to research a topic of interest, culminating in a day full of presentations. The format of Pinnacle U hasn't changed much over the years, but our approach to the event has evolved to foster a real-world business experience for everyone involved.
The presentations at Pinnacle U are based on property and casualty insurance topics, thus contributing to one facet of the Mission Statement of the Casualty Actuarial Society (CAS) "to advance the body of knowledge of actuarial science applied to general insurance, including property, casualty and similar risk exposures." 
A major contributor to the program is Illinois State University (ISU), which furnishes motivated students in the actuarial science program to participate in Pinnacle U. The ISU Actuarial Program Director Krzysztof Ostazewski states, "This is a very valuable program, bringing students closer to real professional work that actuaries do." We agree wholeheartedly with this sentiment, having heard memorable presentations over the years on topics such as parametric insurance, catastrophe modeling, and Insurtech.
Presenters have the opportunity not only to perform research as part of a team, but to present their findings to a room full of credentialed actuaries. A panel of experienced actuaries from the Central Illinois region listened to each 25-minute presentation and provided comments, insights and questions for another 10 minutes. This transforms the event from an exercise in public speaking to an enhanced business experience for all involved with more knowledge transfer than most expected.
In this year's program, we expanded our outreach to other insurance programs in the Midwest by having students from Bradley University (Bradley) and the Milwaukee School of Engineering (MSOE). As the reputation of Pinnacle U has grown, so has the interest from students in a broader geographic area. According to Dr. Vince Showers of Bradley, "Pinnacle U is the perfect opportunity for students to accelerate their ability to bring theory to practice while continuously being supported by skilled and caring professionals in the actuarial community."
Dr. Yvonne Yaz, the Program Director from MSOE, accompanied three of her students to the program this year. They joined a Pinnacle actuarial analyst to present on the mathematics of gambling and insurance. Dr. Yaz commented, "Discussions between the presenters and the panel of expert actuaries made them (presentations) even more interesting and valuable."  
The advance preparation for these presentations was considerable. In addition to researching and developing content, initial drafts of the presentations were subjected to a peer review process conducted by senior leadership at Pinnacle. After incorporating the suggested changes from this process, all presenters did 2-3 practice presentations onsite at our offices, complete with constructive feedback, in order to coordinate the approach by team members, polish the content, and perfect their timing and coordination with audio/visual aids.
The question-and-answer portion following the live presentations gave the presenters an opportunity to think on their feet and assimilate what they researched into insightful responses.
We envision Pinnacle U growing in the future as the property and casualty actuarial industry grows and the number of collegiate actuarial students increases. We look forward to bringing this business experience to more students in the region and beyond for years to come.