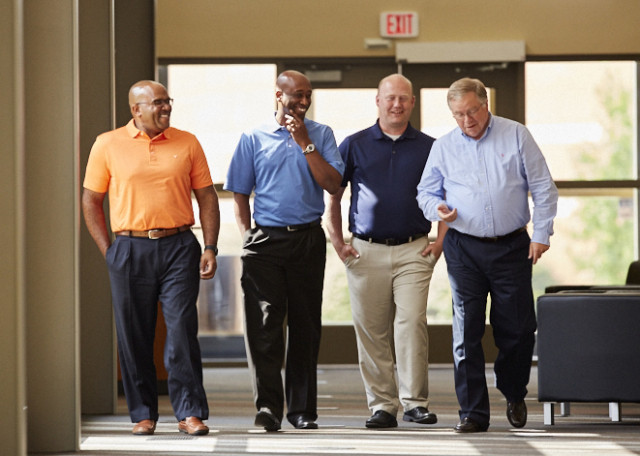 Twenty Years of Commitment
Pinnacle celebrates its 20th anniversary in business in 2023. I was there and recall the palpable uncertainty and excitement back in December 2002 when we were planning this new venture.
With a staff of less than 30 employees, the new firm was named Pinnacle Actuarial Resources, Inc. Our home office was in Bloomington, Illinois, with other locations that spanned the country from New York City to San Francisco with two more locations in the Chicago region.
We began with five shareholders and Steve Lehmann was the firm's first President. The first few years saw substantial growth with the need to establish and largely enhance systems and controls, striving for the highest-level of professional environment. We created a series of monthly webinars to share our knowledge to anyone interested in free continuing education. That concept of providing free webinars was novel at the time. But only four years later, our reach extended to all continents of the globe (but for Antarctica).
About this same time, we realized the need for long-range planning and embarked on a voyage to develop a Strategic Plan. This was somewhat unusual for a firm our size but it has served us well. Coincident with that new plan, I was named the firm's Managing Principal and the governance approach was changed from a more traditional structure to a functional area of management matrix.
We now refer to this as a Key Management Area (KMA) approach, which enables broader participation and leadership in the marketing, professionalism, development, research and other functions' leadership structure of the firm. It has the added benefit of a deeper ascription to the firm's mission, vision and core values and serves Pinnacle well to this day.
Ten years into the new firm, we embarked on a branding initiative and implemented our Commitment Beyond Numbers motto. That brand is supported by four pillars that inform all we do: Empathetic Customer Service, Superior Communication, Expertise and Better Business Decisions. The concept of our commitment to our employees, customers, profession and the publics we serve as demonstrated every day by the four pillars is ingrained in the DNA of the firm.
In retrospect, Pinnacle weathered the Great Recession, a pandemic and the Great Resignation. The transition to remote work arrangements has led to challenges, but our people have demonstrated not only their willingness, but a determined ability to follow through with communications, responsiveness and customer service challenges time and time again.
As we look forward as Pinnacle turns 20, our reputation has never been stronger. We face future challenges head-on with a strong leadership team and a talented and growing group of consultants and staff. Pinnacle is well positioned to continue growing and thriving in our third decade.